Career Highlights include difficult cases Dave has won through persistence and a creative application of the law.
Wrongful Bank Foreclosure
Dave sued a well-known national bank (which shall remain nameless) claiming that it wrongfully foreclosed against his single, senior client, despite the fact that she had met all of the deadlines for a loan modification, which would have brought her delinquent loan current. The bank's attorney filed dozens of motions challenging this lawsuit, over a three and ½ year period, none of which succeeded. Although the bank had little interest in discussing settlement for several years, through Dave's persistence and convincing application of the law, he was able to thwart off these attacks after which the bank agreed to enter into serious settlement discussions. The client received a large settlement as a result.
House Ownership Dispute (Someone Else's Name on Title)
In this case, Dave filed suit against the record title owner of a house, claiming his client was the true owner, even though his client's name was not on title. Even experienced realtors said this was a losing case, because legal possession, as the old saying goes, is 9/10ths of the law. However, Dave was able to convince the court that under the particular circumstances, where the defendant had promised to transfer title as long as Dave's client continued to pay the mortgage, that the defendant was not the rightful owner of the property, despite his name being on title. The key here was to thoroughly analyze all of the applicable law, and then assemble a variety of witnesses whose testimony when taken as a whole, convincingly established that the defendant had promised to convey legal title to Dave's client from the start, even though he changed his mind along the way.
First Federal Case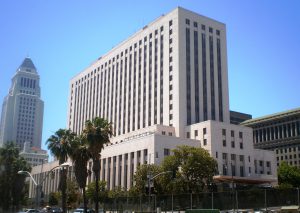 Dave's first federal case was a three-week jury trial in downtown Los Angeles, in which he defended his city client against attack by a firefighter-employee, who claimed that his civil rights were violated due to the lack of separate sleeping quarters for female fire-fighters. After plaintiff rested, Dave convinced the judge to take the unusual step of taking the decision away from the jury by granting a "directed verdict." The judge agreed with Dave's argument that firefighter had failed to prove a critical fact, without which, the firefighter was unable to establish a violation of his civil rights.
Orange County Bankruptcy
In 1994, Orange County filed for bankruptcy after its treasurer engaged in heavy borrowing and risky investments with the funds from its municipal investment pool, resulting in huge losses as interest rates sky-rocketed. Of the 187 public entities that had invested in the pool, 12 were located outside of Orange County. As city attorney for one of the 12, Dave took a leading role in arranging joint representation for the group; securing one of 7 coveted seats on the creditor's committee, and arguing for legislative relief before a committee of the State Legislature. As a result of this joint effort, those 12 municipal investors, including Dave's city client, were able to enter into a separate settlement agreement, which afforded them a higher-than-average return on investment, so that despite the devastating losses suffered by the other 185 investors, these 12 were more than made whole.
Publications/Presentations
As a city attorney, Dave has drafted a variety of legal opinions, two amicus briefs, one on behalf of 120 cities, and a number of professional articles and papers. He has also drafted a manual for the Institute of Local Government entitled "Development Agreement Manual: Collaboration in Pursuit of Community Interest" which describes the "nuts and bolts" of using statutorily created development agreements. He also saved a very small city tens of thousands of dollars by using the efforts of a very talented legal intern (whose salary was largely subsidized by federal funds) to draft an entire municipal code.
Dave has also published the following articles:
Sept. 1, 2013 – A Look at Discretionary Land Use Approvals - Contra Costa Lawyer Online
Oct. 1, 2013 – So What Is a City Attorney? - Contra Costa Lawyer Online
Having reviewed a legal brief prepared by Dave, a fellow attorney commented that she had never seen a better written brief, in her life.
Drafted Development Agreement Manual for Institute of Local Self-Government
Dave has also:
Presented a League Paper

 on 

Substantive Due Process in the Land Use Context
Participated in League Panel

 on 

Racial and Sexual Bias in the Workplace